A pioneer in the field of security has launched Victor Guards & Detectives Pvt Ltd; in the year 1988. He has also diversified into Real Estate, Hotels and Leasing Business. He has with his vision, dexterity, ingrained business acumen and professionalism, managed and developed the security to the top level. The company today has a national presence with 11 branches all over India with a guard force of over 16000 personnel.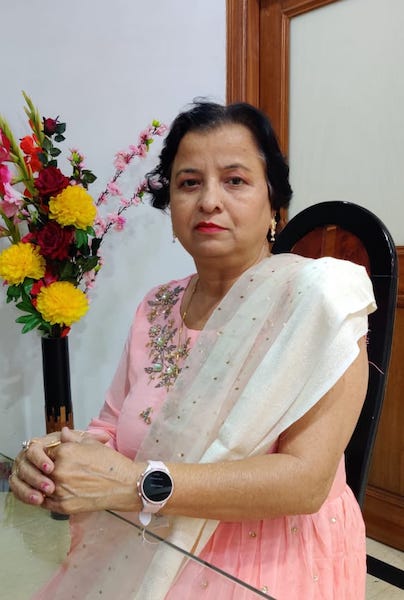 Smt.Santosh Sharma
Director
A renowned social worker involved with number of NGO's working towards the enlivenment of women from tribal and economically weaker section of society. Have started independent business centers where after training, jobs are given to make them self dependent. She is the guiding force behind our organization in making Welfare Schemes for the benefit of our security staff and operating a number of 'EMERGENCY AMBULANCE SERVICES' in the town of Raipur.
Mr. Ashok.K.Niasi (Executive Director)
A management graduate with professional experience spread across admin/material management/business development/client servicing domain in industries such as textile, FMCG, steel and service industry. During which he was instrumental in establishing business network and developing training programmes for specified category of manpower. He has organized management development programmes for senior management in various reputed organizations.
Col Siddhartha Bose
An Officer from the Combat Arm of Indian Army. Three & a half decades in Army besides four years in National Defence Academy and Indian Military Academy. Long innings in Insurgent areas and tenure with National Security Guard, the premier security set-up in India. Successfully completed Security Course with Military Intelligence and Security College and also done Industrial Security Course under the aegis of DGR. Handled VIP Security at National & International level. Had long association with Homeland Security of US Homeland Security Strategies GB regarding high level security system. Expert in security audit and analysis. Lately have been coordinating with 18 Stand Alone Training Venues of Common Wealth Games where Security is of utmost priority
Promoters - Milestones of the Company
The advisory committee comprises of senior officials, who have held important portfolio in their respective fields and their valued support/guidance forms the basis of important strategical decisions in our organization.
&Mr. M. A. Choudhary, IAS (Retd)
Mr. P. S. Patle, IPS (Retd)
Commodore. B. L. Mishra (Retd)
Brig. S. K. Sangwan(Retd)
Lt. Col. R. S. Pathania (Retd)